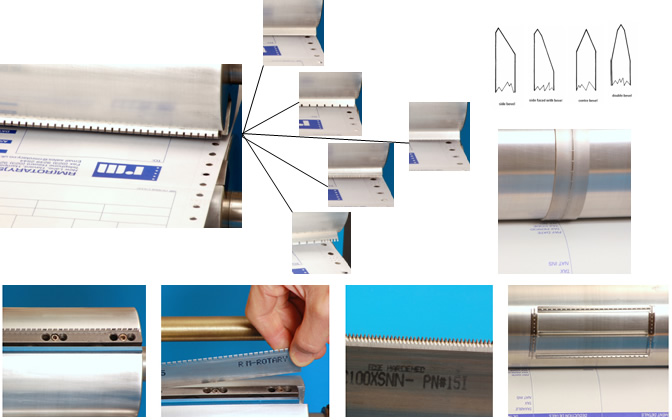 We stock a vast range of Cross Perforation blades (rules) in a wide range of heights, bevels and tooth patterns for most makes of machines. Blade heights include: 10mm (0.393") 11.1mm (0.437") 12mm (0.473") 12.7mm (0.500") 16mm (0.630") 19mm (0.750") 23.3mm (0.918") and 23.8mm (0.937") Other heights are available on request.

Tooth patterns range from plain cutting rule right through to Micro perf as fine as 100TPI (Teeth Per Inch) If your requirement is not one of our hundreds of different stock items then using our CNC machinery we can quickly make it for you at very competitive prices.

All our blades are made from high quality hardened steel with a very sharp cutting edge to give you a cleaner, more accurately perforated Form or Label.

Micro perf is supplied in standard patterns of 24, 30, 40, 48, 60 and 72TPI with deep cut, parallel sided teeth capable of coping with the heaviest paper stock or the thickest multipart set.

Another feature of our in-house production equipment is the ability to make unique combinations of perforation patterns, often described as "Morse Perf", within the same piece of blade. These are becoming essential in adding extra security to documents and assisting in better handling during post print processing such as laser printing.

Available in coils and cut lengths with no extra charge for cutting to length we are certain to have the right perforation blade for your requirements.

To speed up the process of changing Cross Perf Blades on your press we have developed a range of quick release bars. Using simple, effective mechanical methods these bars are cost effective and can reduce machine downtime dramatically, no special height blades are required so you can use your existing inventory of blade.

Download our Blade leaflet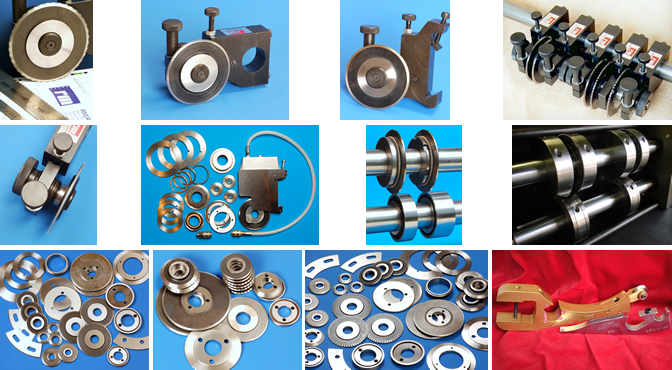 Circular perforation, slitting and edge trim wheels are available for immediate delivery in any size or tooth pattern. We keep hundreds of blank slitter wheels for all popular makes of machine in stock so we can customise to your specifications, usually within hours of you placing your order, any perforation pattern you might need.

We offer a free "Perf Matching" service, simply send us a sample of the printed job or the basic tooth pattern sizes and we will calculate the correct number of teeth required to reproduce the perforation in the wheel that's right for your machine.

As we are a manufacturing company if your wheel is not one of our standards we will make it for you. We are in control of production from the raw material to the finished through-hardened and ground wheel assuring you of a quality product designed to suit your needs with quick delivery times and competitive prices.

For wheels to run efficiently and last as long as possible it's essential that they are concentric and run smoothly on the axle or bearing. All our wheels are finished ground on professional cylindrical grinding machines giving a true and smooth edge. The tip radius is finished by hand by our experienced engineers and we can offer a range of edges from ultra sharp to a heavy crease depending on the material you are cutting or perforating.

We recommend a periodic check of the condition of the wheel holders, bearings and anvils on your press as this can dramatically effect wheel life. We can supply and fit new bearings into your wheels at a minimal cost - it may increase the life of the wheel considerably.... We can also overhaul your holders or supply you with brand-new ones if you require more perforating or slitting positions. Holders range from a simple manually adjustable unit with round bar or dovetail mounting, right through to pneumatic units supplied complete with air hose and couplings if required. Many units can be offered with a sideways micro adjustment feature, making final positioning of the perf or slit easier than ever before.

If you need to produce a "Skip Perf" or "Interrupted Perf" then we have a number of options available from driven true circumference wheels through to segments, stick on Litho Perf or complete units that can fit on to existing file hole shafts.

For Label Printers or Paper Converters we offer a full range of shear slit holders, Scissor Slitter blades and bottom anvils that can be fixed to the shaft by grub-screw or twist lock eccentric methods. We also supply the garter springs and circlips to suit these units.

Quality regrinding and reconditioning service


Once your wheels have lost their edge we can sharpen them for you.
Not all regrinding services are the same... We use the same equipment used to make our brand-new wheels and we finish the edge identically.
The photograph above left shows wheels that have been ground using a different method to ours, this can lead to rough edges and bevel surfaces which in turn can cause poor wheel life and create more dust. Making sure plenty of coolant is used and frequently dressed grinding wheels, as shown in the middle photograph, produces wheels that last longer and give cleaner cuts or perforations as shown in the right-hand picture.
We only take off the minimum amount of material required to get the wheels sharp but at some point perforation teeth will become too shallow to be effective, particularly on Micro Perf wheels. When this happens we can re-cut the teeth, turn the wheels into slitters or supply new wheels entirely at your discretion.
Not only can we regrind circular wheels and blades but, subject to size, we re-sharpen many straight blades for machines such as Bowe etc. Cut off knives and sheeter blades can also be refurbished at a fraction of the cost of buying new ones. Please call for a quotation.
Using our engineering capacity we have refurbished, to a very high standard, many in-line Spiral Binding/Calendar punching units. Regrinding the punches and the lower die plates and then cleaning and polishing all exposed surfaces these units have gone back into production, performing and looking like new.
Download our Wheels leaflet
Download our Wheel Holder leaflet
Download our Regrind leaflet
Download our Skip Perf leaflet